Skincare Routine Update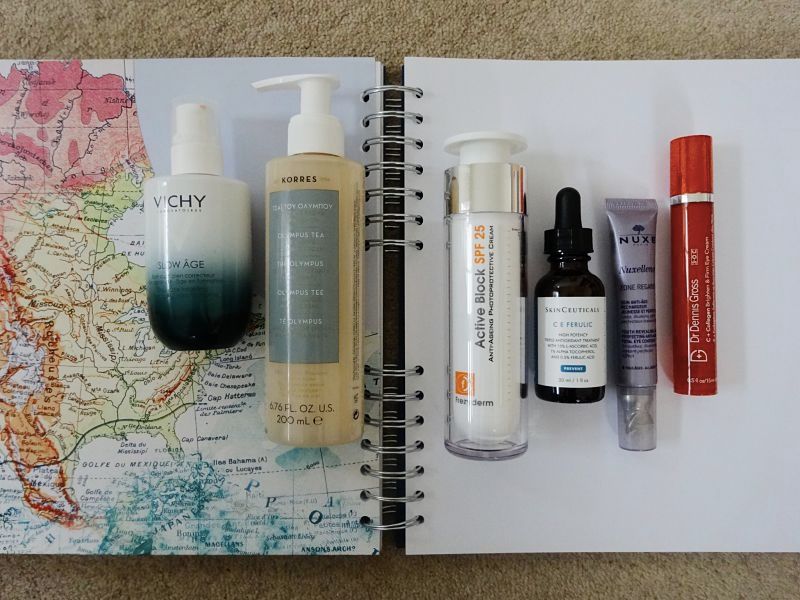 Hello people! It has been a while since my last post, I know! But things happen and for various reasons we are not always able to follow our long-term schedule as planned. Nevertheless, I am now back with a new post on my favourite section which is no other than the skincare (yeyy), so let's focus on that ;)
Since I was absent for a while, I thought starting with an update on what I have changed and what I currently use for the daily care of my skin would be a great come back. Let's have a look!
C E FERULIC SERUM – SKINCEUTICALS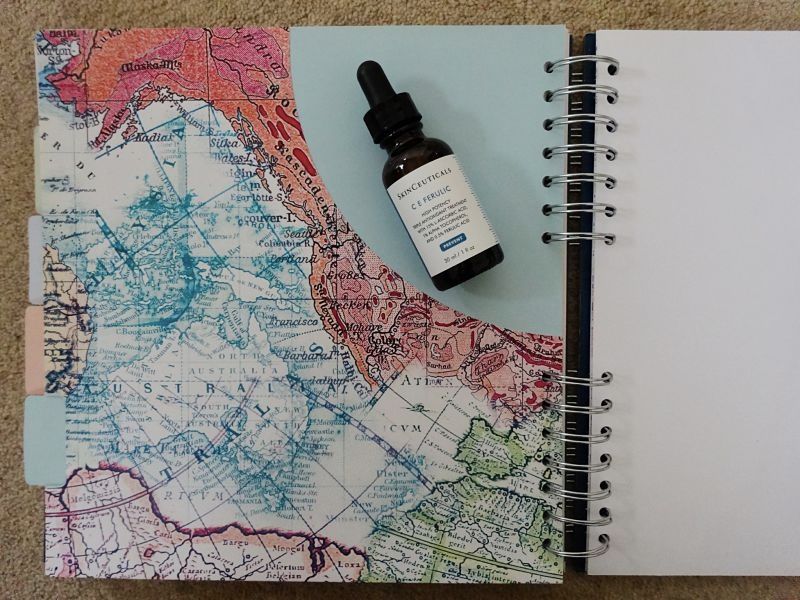 First of all, from the moment I discovered the Skinceuticals Antioxidant Serums, very quickly I became a big fan of them. What has changed though is that I used to use the Serum 10 (I have written about it in an older post), which I have now substituted with the C E Ferulic Serum. I decided to "upgrade" to C E Ferulic Serum, following the advice of my aesthetic therapist after a consultation discussing my skin concerns. Not that I wasn't satisfied with Serum 10 but this is the Introductory Vitamin C Antioxidant of the brand and it seemed that for me was time for something more efficient.
C E Ferulic Serum delivers 15% Pure Vitamin C, 1% Vitamin E and 0.5% Ferulic Acid; a strong antioxidant synergy that targets on Ant aging benefits, enhances skin's defence against free radicals and prevents the ozone harm to the skin.
So, this is how I start my day; after having washed my face, I apply about 4 drops throughout face and neck before I move on to day cream.
ACTIVE BLOCK SPF 25 – FREZYDERM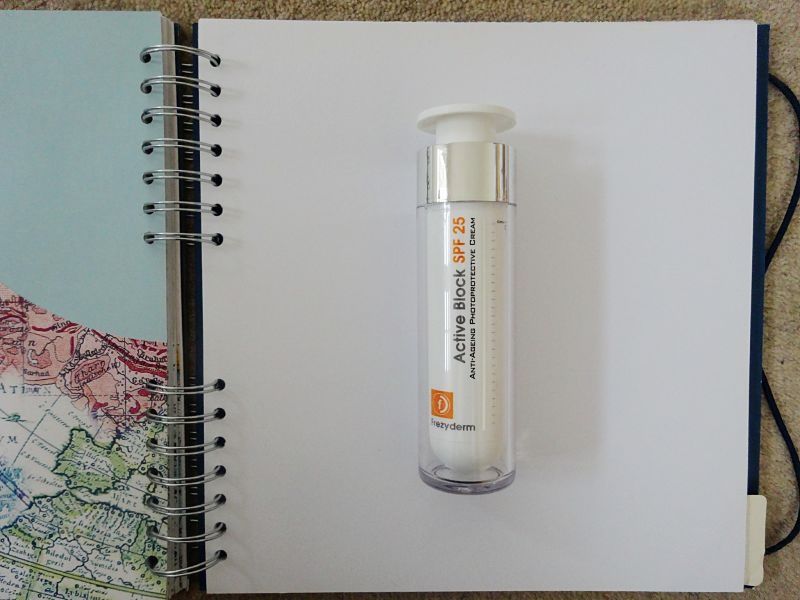 Since I spent the last few months back home in Greece, once again I chose some of the products I use from my Dad's pharmacy. I decided to switch my day cream, the Moisturising Plus from Frezyderm (written about it in an older post), to the Active Block SPF 25 of the brand, with anti aging and photo protective properties. I thought that this moisturising product with a more advanced prevention of first wrinkles and with SPF 25 against UVA and UVB, would be more suitable for my needs at this point. After all having some sun protection easily in your moisturiser is not to be devalued as don't forget that most of our skin's damage and ageing is due to factors like the sun.
   I have to say I am really happy with my choice already as Active Block feels great on my skin, very easily absorbed, without affecting the application of foundation (some moisturisers do that) and its texture is completely non oily, which I adore (I really can't tolerate oily texture creams).
NUXELLENCE EYE CONTOUR – NUXE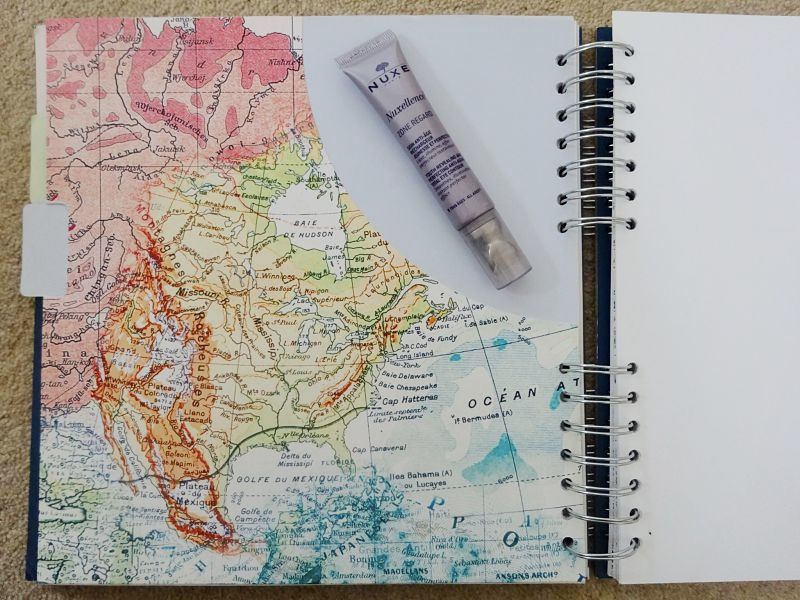 When it comes to the eyes, the truth is I usually have a difficulty in using a day cream in the area since I always feel it is not well absorbed before I proceed to concealer application, leading to a greasy result. Still, I now use the Nuxellence Eye Contour from Nuxe, which I really like and I find it quite convenient.
Nuxellence Eye Contour due to its Hyaluronic Acid and Passionflower ingredients provides a strong anti-ageing effect, helping the area to look smoother. At the same time its special applicator has cooling and decongesting properties, enhancing the total efficacy while makes it easier to apply and massage.
What I like the most about this product though is that the cream itself comes in a slightly coloured shade with illuminating elements, implying it to act as a very light concealer as well. So for someone who doesn't have a big issue with dark circles (obviously not me) and just wants to brighten a little bit the eye area, this cream could be enough on its own during daytime, whereas in any case it reinforces concealer.
OLYMPUS TEA CLEANSING FOAMING CREAM – KORRES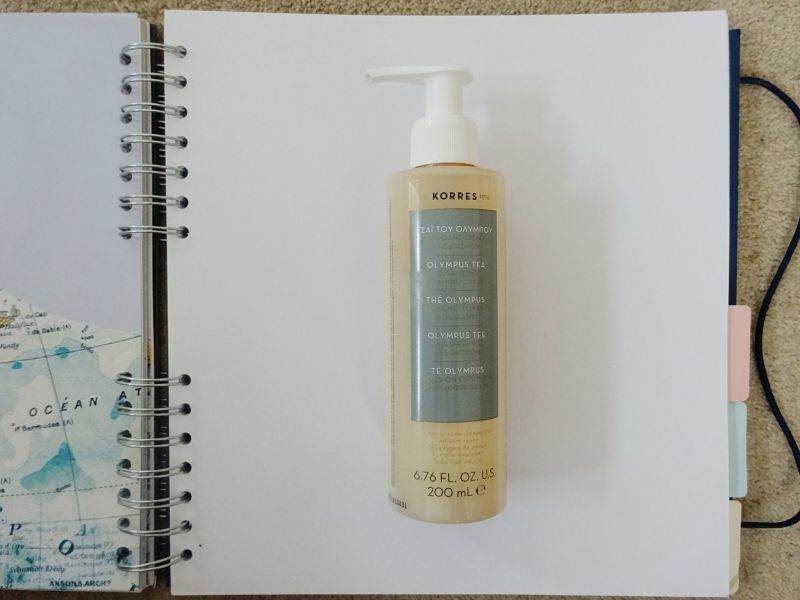 And so the day is over, we are back home tired, we just want to have our bath and relax. So at this point after bath, I also clean my face with the Olympus Tea Cleansing Foaming Cream from Korres (another "theft" from my dad's pharmacy :P), which I absolutely love. I haven't liked that much a cleansing product for a long time. With extract of organic tea from the Olympus mountain (the abode of the 12 Gods from Greek mythology), Vitamin C, Calendula, Provitamin B5 and a blend of Citrus, Aloe and Brocolli leaves the skin fully refreshed, clean and smooth.
Personally, I use it directly in order to remove make up and any other impurities and I have to say it also removes mascara quite effectively, which is great. Important to mention that is soap free so doesn't leave your skin dry, only clean and smooth! Olympus tea foaming cream has become the most revitalizing step of my skincare routine because to me clean skin before bed is the most important element of a good skincare practice.
C + COLLAGEN BRIGHTEN + FIRM EYE CREAM – Dr DENNIS GROSS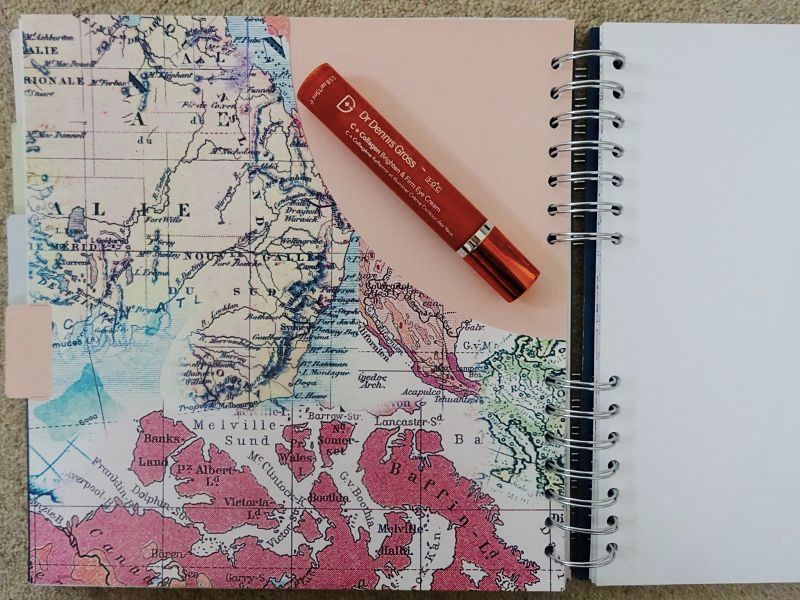 I recently discovered the C + Collagen Brighten + Firm Eye Cream from Dr Dennis Gross, of which I've heard only the very best when the problem is mostly the darkness and fine lines under the eyes rather than any deep wrinkles. Its formula is based on Vitamin C, Collagen Amino Acids and an Energy Complex with antioxidant properties. It sounded good and I decided to give it a go.
So, I use this eye cream at night around a month now and I can feel there is some improvement already; I feel the area more hydrated and a bit brighter, which is really good news. I love bright eyes, who doesn't?
Something that might be unwelcome for some though is that as long as I apply it, for a few minutes I can feel a slight burning sensation, which in my case is very minor and I don't mind as I perceive it as "working proof" but it always depends on how you feel and on your skin. Maybe some others do not feel this burning at all or some feeling it more intense; we are all different and products act differently on each of us.
SLOW AGE FLUID – VICHY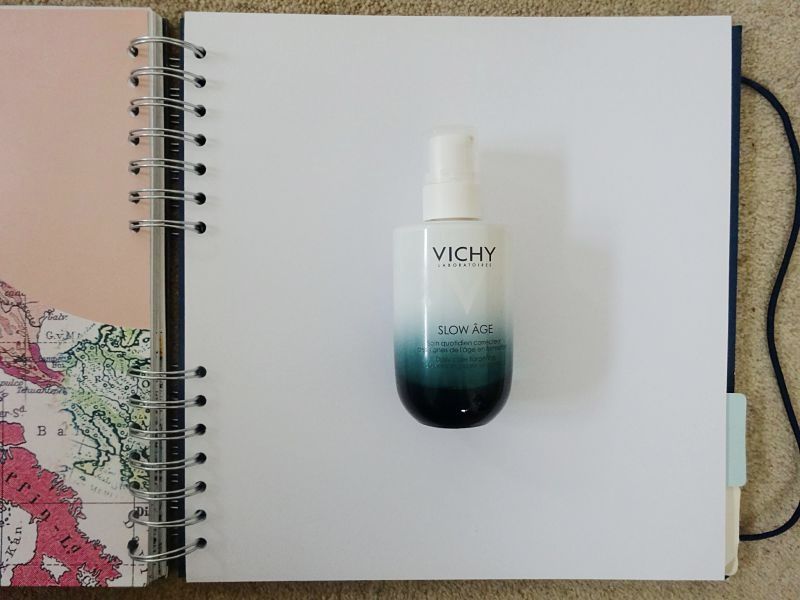 Last but not least I have completely loved the newly launched Slow Age Fluid from Vichy. My trust for Vichy is unquestionable, so when this new product arrived at our pharmacy and after I had been informed in detail about it from the brand's representative, I immediately got a bottle for me and I definitely did well. I love its non oily texture, its soft sensation, its revitalizing smell, the fact that with one pump you have exactly the amount you need to use and of course that it "slows age". It also provides an SPF 25 protection so it is suitable for day and night, although I currently use it only at night on clean skin.
Containing antioxidant Baicalin, probiotic derived Bifidus and the well known Vichy Mineralising Thermal water, Slow Age is ideal to minimize ageing signs while keeps your skin fully hydrated, smooth and even improve skin's tone; In a few words I feel it makes my skin to look healthier!